Image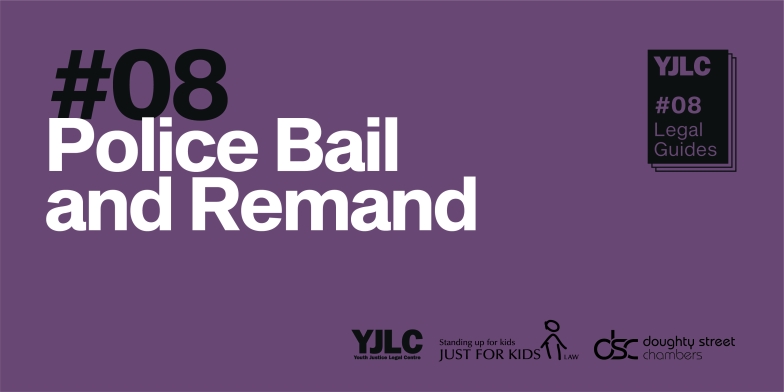 Our legal guide provides an overview of the law on the pre- and post-charge detention of children by the police and examines the corresponding duties of the Local Authority. The guide gives practical tips on what can be done by practitioners to reduce the time spent by children in police custody and, in particular, how to avoid their detention overnight at the police station.
Speakers
Jennifer Twite
Head of Strategic Litigation at Just for Kids Law
Jen has been a practising barrister since 2006, she specialises in youth justice and co-authored Youth Justice Law and Practice, by LAG. She leads the strategic litigation team at Just for Kids Law, who launched the #nochildincells campaign in 2016. As part of that campaign Jen has taken a number of challenges against local authorities across London, recently winning a case in the Court of Appeal which found that Waltham Forest are in breach of their statutory duty for failing to have access to secure accommodation for children.
Through YJLC she has been training the MET, and local authorities on their duties under PACE and the Children Act concerning the rights of children in the police station, and has been engaging with other stakeholders, such as the national police chiefs custody forum and MOPAC, to push for a more a child-friendly approach at the police station.
Before becoming Head of Strategic Litigation Jen specialised in representing children and vulnerable adults in the criminal courts. At Just for Kids she has led the campaign on Child Spies, and represented one of the Respondents in the Supreme Court case, which led to the reform of the disclosure regime, so that youth cautions are no longer disclosed in criminal record checks in later life. She works on diverse issues across the youth justice system, including the anonymity of child offenders, issues concerning the retention and disclosure of criminal records and criminal appeals.
Sam Jacobs
Barrister, Doughty Street Chambers
Sam specialises in public law, civil actions against public authorities, and inquests. Sam's work in civil actions against public authorities primarily arises out of interactions of individuals with police, prisons, mental health care, and social care. He is described in Chambers and Partners as a 'rising star' in the field of community care and praised for his 'measured, logical approach', 'always clear' written submissions, and 'interesting work'. He is regularly instructed in inquests, civil trials, and in High Court matters. He has acted in a number of high profile cases including SG v SSWP concerning the lawfulness of the 'benefit cap', and Moseley v Haringey LBC on the law of consultation, both in the Supreme Court.
He was junior counsel in R (AR) v LB of Waltham Forest [2021] EWCA Civ 1185 which concerned local authority duties to provide secure accommodation to children in police custody who have been denied bail. The Court of Appeal held that Waltham Forest, who discharge their duties to provide secure accommodation in the same manner as all London authorities, were acting unlawfully.
Mel Stooks
Head of the Youth Crime Team at GT Stewart Solicitors
Mel is a solicitor who has specialised in youth justice work throughout her legal career. Mel leads the youth crime team at GT Stewart Solicitors, is an experienced trial advocate in the youth court and has considerable experience defending young clients charged with GBH, rape and armed robbery and murder. Mel co-founded the Youth Practitioners Association (YPA) and was a member of The Rook Committee that produced the Advocacy and Vulnerable Witness Training provided by Inns of Court and The Law Society. She provides training in youth justice to other professionals as well as training for Appropriate Adults who may be required to attend the police station. Mel has considerable experience representing children in the police station and regularly deals with the issue of bail, remand and transfer to local authority accommodation.
Jacqui Belfield-Smith
Head of Youth Justice, Serious Violence Reduction & Targeted Youth Support Services, Stockport Council
Jacqui has significant management and leadership experience in Youth Justice having worked in the field since 1999 and she has been Head of Youth Justice, Serious Violence Reduction & Targeted Youth Support Services for Stockport Council (one of the Greater Manchester authorities) since 2005. The post involves close collaboration across the 10 GM authorities, including leading on the GM Policing & 'Children in Police Custody' workstreams and acting as the lead commissioner for the GM Appropriate Adult contract. She also holds a national position as the Vice-Chair of the AYM (Association of YOT Managers), where her portfolios include for Policing, Children in Police Custody and ASB, and she is the AYM rep on the Youth Justice Sector Improvement Board (YJSIP). Jacqui also represents the Youth Justice Sector on Just For Kids Law's Advisory Board.
Jacqui's work on the GM Children in Police Custody workstream has ensured close collaboration over many years with Greater Manchester Police (GMP) and the GM Directors of Children's Services, to ensure that there is an operational joint GM (PACE) Protocol in place, a unified GM Appropriate Adult contract with one provider for children and adults, a commissioned s.38 bed and good links with the GM Integrated Healthcare Service in custody (which includes Liaison & Diversion).  Monthly scrutiny functions to review cases aims to create a learning culture that equips custody suite staff and out of hours colleagues to make effective frontline decisions.
Katya Moran (chair)
Co-head of the Youth Justice Legal Centre, part of Just for Kids Law
Katya is a specialist youth justice lawyer with several years' experience representing children in criminal proceedings and maintains a busy independent practice in the police station and youth court. Katya oversees the development of YJLC's interactive legal training programme, writes best practice legal guides on youth justice issues and regularly delivers lectures and training on youth justice.