The Children's Rights Group at Doughty Street Chambers and the Youth Justice Legal Centre at Just for Kids Law invite you to join us in launching our legal guide on Effective Participation.
Our legal guide is intended to assist lawyers representing children in the criminal courts. The guide explains the legal framework for fitness to plead and effective participation in relation to children going through the criminal justice system. It takes you through the key points in a case where concerns about your client's ability to effectively participate arise, and gives practical advice on the work that needs to be done by the defence at each stage.
To launch the legal guide we will be holding an expert seminar on the topic on 14th October. Biographies for panellists can be found below. Registration via Eventbrite.
Image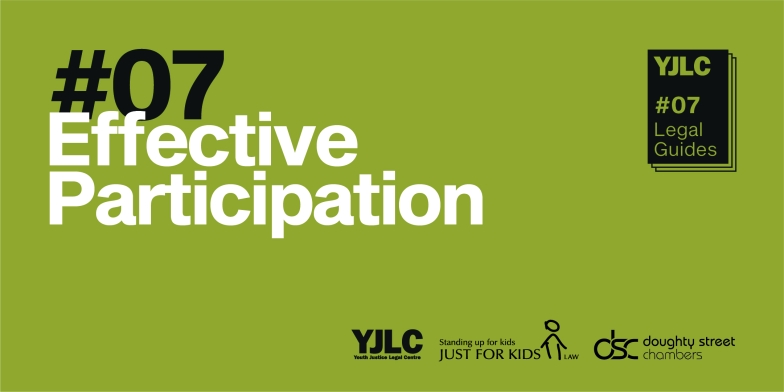 Speakers
Dr Enys Delmage
Dr Enys Delmage is an Adolescent Forensic Consultant Psychiatrist currently working in New Zealand, with secure adolescent inpatient responsibility and community work which encompasses working with young people at risk of extremist/mass casualty events. He has a special interest in children and the law, both civil and criminal, and has written a number of articles and book chapters related to the topic. He has done research into the minimum age of criminal responsibility internationally and has a particular interest in developmental immaturity and the interface with principles of criminal law internationally, in terms of mens rea, doli incapax and fitness to plead/fitness to stand trial/effective participation/adjudicative competence.
Greg Stewart
Greg Stewart is a Partner and Senior Solicitor at GT Stewart Solicitors & Advocates. Since qualifying in London in the 1990s Greg has specialised in advocacy and appeals involving children and young people and he has been involved with many policy issues including the latest revision to the sentencing code for children and young people. He was called to give evidence to the 'Carlile Inquiry' a Parliamentary Cross Party Inquiry into the Youth Justice System and his views were widely quoted in the final report. He currently is a member of the Youth Justice Advocacy Working Group Chaired by William Davis LJ and the MOJ s.28 Steering Group. He is a co-author of the Criminal Appeals Handbook (2nd Ed. Oct.2019).
He has many reported appellate challenges to unfair aspects of youth court practice. In 2019 he received the Youth Champion - Outstanding Achievement Award at the Youth Justice Legal Centre annual Youth Summit.
Emma Goodall QC
Emma Goodall QC is a leading criminal practitioner at Doughty Street Chambers and a Recorder appointed to sit in the Crown Court. She has extensive experience defending in trials involving homicide, serious organised crime, terrorism and sexual offences. Emma is also regularly instructed in an advisory capacity pre-charge, in criminal appeals where she did not act at first instance, applications to the CCRC and in Judicial Review proceedings.
Emma has developed a particular interest in the representation of children and young people within the criminal justice system and the legal and practical issues that impact upon effective participation. She is extremely skilled in dealing with vulnerable and mentally disordered clients and is experienced in conducting fitness to plead hearings.
Aika Stephenson
Aika Stephenson is a solicitor who has specialised in youth justice work throughout her 18 year legal career. She leads the criminal defence team at Just for Kids Law, which she co-founded 14 years ago. Just for Kids Law was the first UK charity to hold a criminal legal aid contract.
Aika represents young people at every stage of the criminal justice system, from the police station to the Supreme Court. She is driven by a determination to bring about systemic change that benefits all children and young people caught up in the criminal justice system.
Aika has pioneered employing cutting-edge arguments to ensure she gets the best possible results for her young clients. She has specialised in representing children with Special Educational Needs and regularly runs effective participation arguments as part of her practice
Dr Miranda Bevan
Dr Miranda Bevan is a lecturer in law at Goldsmiths, University of London and visiting fellow in Social Policy at the London School of Economics and Political Science. Miranda has a legal background, having practised as a criminal barrister (at 2 Hare Court, Chambers of Jonathan Laidlaw QC, 2000-2012) before coming to academia. She has also worked at the Howard League for Penal Reform as a policy associate. The issue of effective participation has been central to her work in recent years. She spent two years at the Law Commission as lawyer with responsibility for the Unfitness to Plead Report which was published in 2016. More recently her doctoral research explored the experience of children and young people detained as suspects in the police station in England and Wales, focusing in particular on their ability to participate effectively in their police interview and other investigatory processes.
Katya Moran (chair)
Katya Moran co-runs the Youth Justice Legal Centre at Just for Kids Law. She is a specialist youth justice lawyer with several years' experience representing children in criminal proceedings and maintains a busy independent practice in the police station and youth court. Katya oversees the development of YJLC's interactive legal training programme, writes best practice legal guides on youth justice issues and regularly delivers lectures and training on youth justice.